We provide education welfare services to all types of schools and academies to improve your overall attendance and punctuality.
TEAM EWS – Education Welfare Officer (EWO)
TEAM EWS will work in consultation with the school to determine the length of time (number of days or half days) required for our school based EWO to effectively and efficiently provide the following requirement and ensure our services are tailored to support achieving improvements in overall levels of attendance.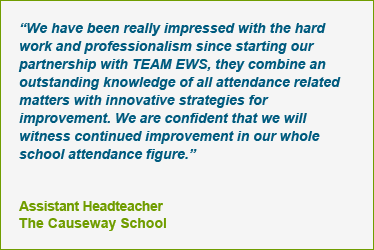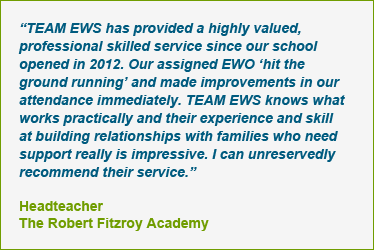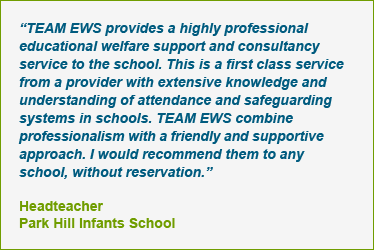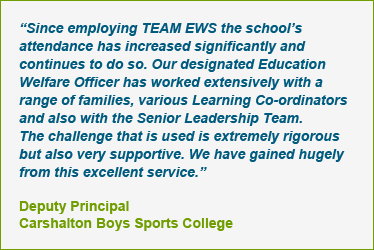 Our EWO will meet with parents regularly to establish any barriers to a regular full time education and work in collaboration with all parties to develop strategies to ensure a positive outcome and improved attendance for the pupil and school.
Support pupils and families presenting welfare and social care concerns but also robustly challenge parents who condone their children's absences from school and regularly monitor success of intervention.
To act as children's education advocate and to facilitate the educational partnership between home, school, community and Local Authority, by support, liaison and negotiation and where conflict arises to give paramount consideration to the interests of the child.
To take supportive/remedial action in respect of individual absentees to secure their regular attendance at school or other educational provision.
Ensure compliance with all legislative requirements & undertake all recognised statutory education welfare service responsibilities.
Initiate statutory action over non-attendance cases when necessary, including preparation of evidence in Court, under the Education Act 1996 and the Children Act 1989.
Implement the Local Authority's Fixed Penalty Notice Code of Conduct on behalf of the Head Teacher.
To advise and support schools in the implementation of School Attendance Regulations and in the use of attendance statistics for the monitoring and management of school attendance.
To contribute pro-actively and to relevant areas of school policy and planning including the development of a whole school attendance policy and liaison with governors as appropriate.
To invoke and participate in child protection procedures, as appropriate, including making education social work contribution to design and implementation of child protection plans.
To make referral to, to liaise and collaborate in joint work with other practitioners
Provide termly reports on the impact of our service.
Provide telephone/email advice and support outside the designated days in the event of concerns arising which cannot wait until the scheduled visit, such as safeguarding issues or information required for school inspections.