We provide education welfare services to all types of schools and academies to improve your overall attendance and punctuality.
TEAM EWS – Family Liaison Officer (FLO)
As with all of our services this role can be tailor made to suit the individual requirements of each school. With the introduction of pupil premium and the restructure of Social Care, there is now a growing expectation on school's to provide Stage 1 and Stage 2 Early Intervention support for pupil's and families registered to their school roll.
Our strong team of experienced FLO's can provide a school based service for an agreed number of days/half days to relieve the time management constraints from the Senior Leadership Team and ensure that the pupils and families in your school community have access to all the support available to improve outcomes.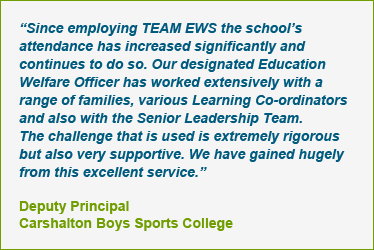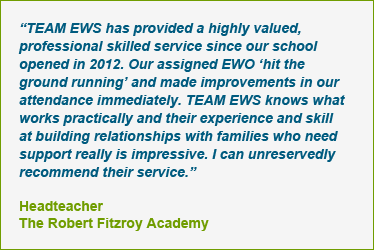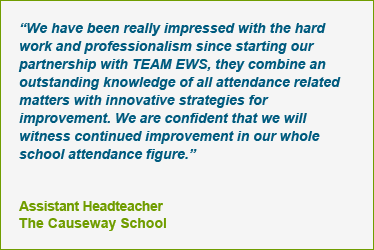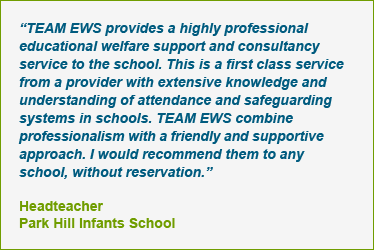 Under guidance from the Head Teacher and the Senior Leadership Team, to engage with vulnerable families in order to formulate a package of support.
To act as a point of contact in school for families in need of support.
To identify signposting for families and refer for support when appropriate.
Liaise professionally with external agencies such as Housing, MASH Team, Children's Centres, Social Care and the Early Intervention Team.
To complete Common Assessment Forms (e-CAF) with families in order to assist them in seeking the most appropriate support.
To complete MASH referrals.
To build effective relationships with families.
To maintain regular contact with families of children receiving support to encourage positive family involvement in the child's learning.
To ensure information is forwarded to the Safeguarding and Child Protection Lead as appropriate and assist with referrals where required.
To maintain record keeping in accordance with the policies and procedures in place in school, including case studies.
To support the Senior Leaders & Education Welfare Officer in identifying possible under attainment and underachievement linked to poor attendance or other barriers external or internal.