We provide education welfare services to all types of schools and academies to improve your overall attendance and punctuality.
TEAM EWS – Attendance Officer – Early Intervention
As with all of our services, this role can be tailor made to suit the individual requirements of each school. Our TEAM of experienced Attendance Officers can provide a school based service for an agreed number of days/half days.
The key objectives being to improve school attendance and punctuality and to provide specific support in relation to attendance under the guidance of the Education Welfare Officer and Headteacher.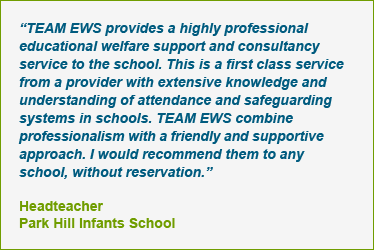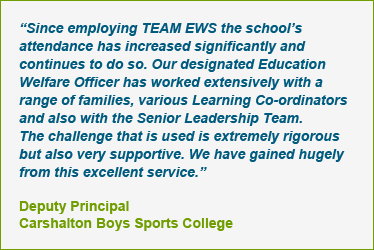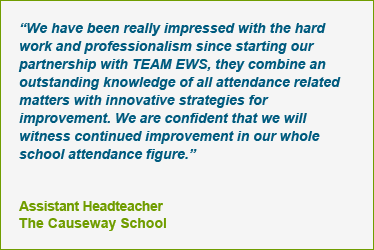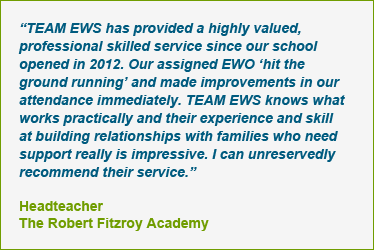 The Attendance Officer will work alongside key school staff and other agencies in school to reduce levels of unauthorised absence and promote whole school attendance strategies.
Ensure that school registration systems are correctly administered and report on the quality of the registers.
To collate, maintain and update attendance data using agreed systems/SIMS.
To assist with the identification of students who will receive support in improving their attendance record & to work with identified individuals and groups of students, identified by the school using regular attendance checks and contact with parents/carers and students to improve levels of attendance.
Be responsible for organising a check on children at risk of truanting and initiate and carry out periodical post-registration truancy checks.
To work with parents/carers in improving their child's attendance record and co-ordinating parental support and training where appropriate.
To work with a targeted group of students using regular attendance checks and contact with parents to improve levels of attendance.
Assist with providing advice and support for students returning to school after a long period of absence in liaison with other relevant parties.
To organise and run efficiently the late desk.
Assist with implementation of the Attendance Incentive Scheme and late detention sessions. Participate in the development of school reward systems in relation to attendance.
Produce and interpret statistical data relating to attendance patterns of group/cohorts within the school.
Provide regular updates for staff on student attendance with targets and strategies for improvement.
Be the first point of contact for all attendance related issues.
To identifying patterns of absence and implement structures & early intervention strategies to improve attendance & punctuality.
To support the Senior Leaders & Education Welfare Officer in identifying possible under attainment and underachievement linked to poor attendance or other barriers external or internal.
Establish constructive relationships with parents/carers and communicate information as required.